New models on display at Frankfurt Show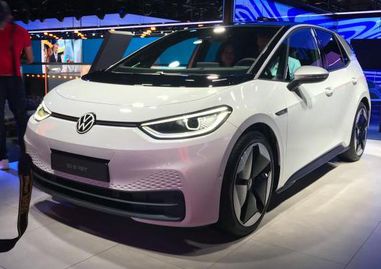 The Frankfurt Motor Show opened last week, Europe's largest, with a rash of new electric models including Volkswagen's eagerly awaited ID.3. Here we take a look at some of the models on display.
Volkswagen ID.3
Volkswagen unveiled the all-electric ID.3 in production form at Frankfurt, its first purpose built electric car which is expected to be on our roads by next summer. Prices are expected to start below €25,000, with the top model selling at around €40,000, with ordering beginning in the autumn and the first deliveries in Q2 of next year.
There will be three powertrain options available. The entry-level car will use a 45kWh battery, giving a range of up to 300km, while a larger 58kWh battery will boost range to 400km miles.
Range-topping models will use a 77kWh battery, with a 500km range, while fast charging (100kW) will enable 250km of range to be added in 30 minutes.
The ID.3 is the first VW Group vehicle to be based on its new MEB platform, which was developed specifically for electrification with batteries integrated into the underbody. Eventually this platform will underpin a large range of electric models across the VW Group.
Mercedes A250e
Mercedes has officially confirmed a new plug-in hybrid version of its A-Class family, the A250e, and available to order now at around €36,000. The hybrid system mixes the brand's 1.3-litre turbo four cylinder diesel engine with a 15.6kWh battery pack and 75kW e-motor. Power up to 215bhp allows for a 6.6sec 0-62mph sprint and 146mph top speed. Mercedes claims it will do 87mph on e-power alone when in EV mode.
Mercedes also says the new A-Class A250e can reach up to 168mpg if used properly, emitting 33-34g/km in the process, and that it can be charged  from 10 to 100% charge on a 7.4kw charger in 1 hour 45 minutes, or around 25 minutes on a faster DC charge from 10 to 80%.
Mercedes EQV
Earlier this year, Mercedes unveiled a concept version of its electric people carrier, the EQV, and in Frankfurt it was on display in production form. Based on the V-Class, the EQV is powered by a 201bhp electric motor which provides a driving range of 251 miles on the WLTP test. Inside, passengers benefit from Mercedes' MBUX infotainment system with room for up to eight passengers plus their luggage. Prices should start at around €69,000.
BMW Concept 4
Star of the BMW line-up was its new Concept 4 that has been created to show possible future BMW styling ideas. Adding drama was the Vision M Next coupé – an electric vehicle that could be destined to replace the i8. Another 'future' highlight was the BMW i Hydrogen NEXT, which shows BMW hasn't forgotten about fuel cell electric vehicles, and could indicate a hydrogen-powered BMW is in the works.
More down to earth models included the 3 Series Touring, as well as the new BMW 1 Series that both made their show debuts, plus the new X6 that joins the line-up.
Porsche Taycan
The Taycan is Porsche's first fully electric model, and is aimed at cars like the Tesla Model S. The Taycan will go on sale early next year, priced from €130,000. Two versions of the saloon are on offer, with even the most basic 'Turbo' model able to travel for 281 miles between charges. Cheaper models will come later, along with an estate version.
Honda e
The new Honda e, the maker's first mass-production EV in Europe, is available to order now in the Advance model from €32,000. This brings a higher-output motor – 154hp instead of the 136hp variant in the base model which launches later – and also adds extra specification, including Centre Mirror System (in addition to Side Camera Mirror System), Honda parking pilot which aids the driver in parking and is a first in the Honda range, and a premium audio offering. Deliveries will start from early summer 2020.
Volkswagen e-Up
Volkswagen's smallest electric car gets an upgrade, with a larger 32kWh battery pack which allows it to travel for up to 160 miles between charges. Standard equipment will include Bluetooth connectivity, lane-departure warning and a companion smartphone app which provides navigation and infotainment functions.
Land Rover Defender
The new Land Rover Defender was unveiled, with prices starting from €39,000. The five-door Defender 110 starts from €50,000 and can be ordered now. Three-door Defender 90 and Commercial pricing and deliveries will be confirmed at a later date.
Defender 90 is expected to start at around €45,000 with the Defender Commercial from €39,000 (plus VAT).
Andrew Jago, general manager, fleet and business at Jaguar Land Rover UK, said: "The excitement and anticipation of Defender amongst our fleet and business customers is extremely encouraging, and we anticipate a strong order bank before deliveries commence next spring.
"Defender sets a new benchmark for off-road capability and personalisation, and commercial variants will extend appeal to a wide base of business users."